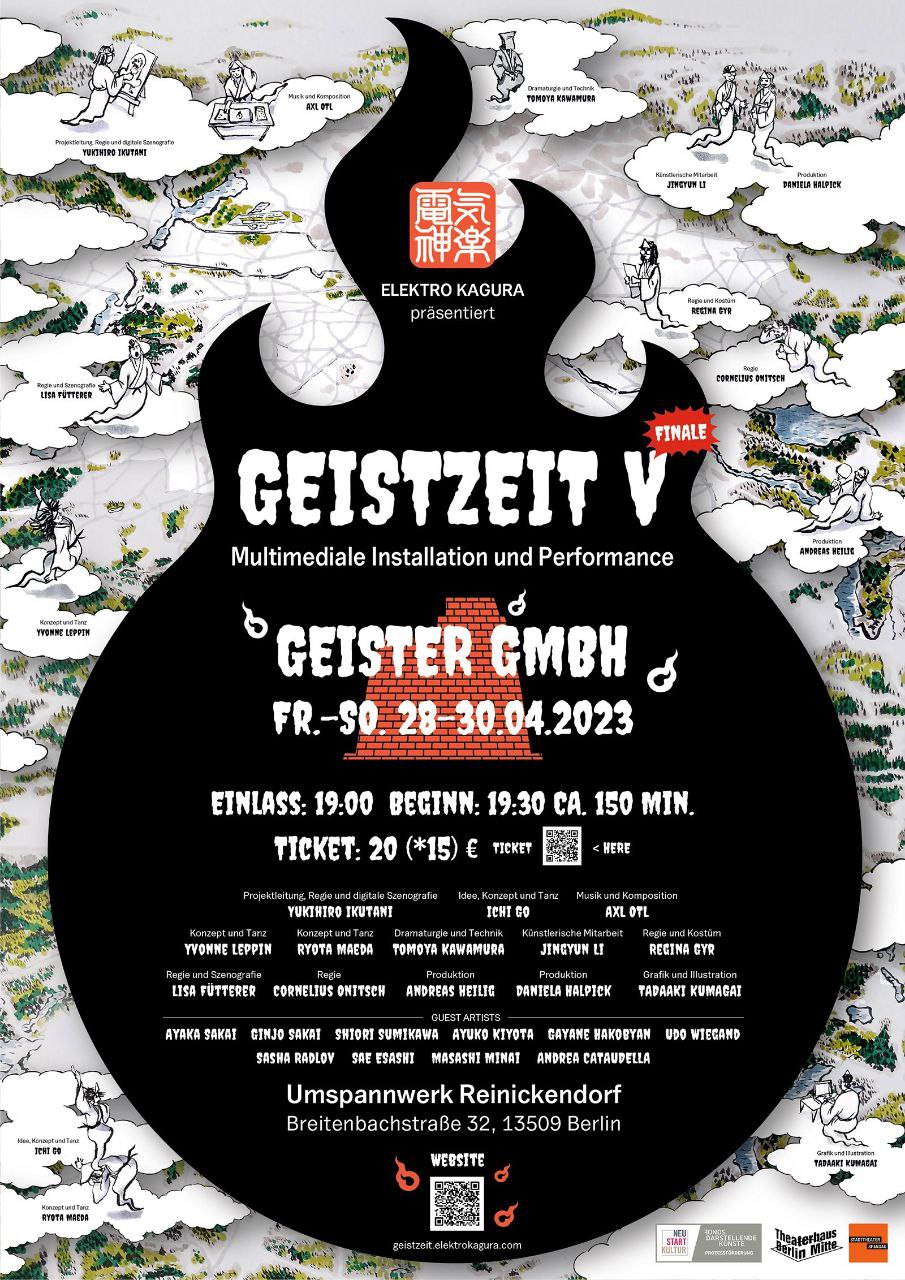 The Geister GmbH moves for a weekend into the old transformer station in Berlin Reinickendorf and invites you to the final celebration of all previous episodes. The space in the basement, first floor and second floor offer the possibility for immersive experiences to dive into a ghost world where the real and the surreal expand and merge.
Konzept: Yukihiro Ikutani
Yukihiro Ikutani – Projektleitung, Regie, digitale Szenografie | Ichi Go – Gesang, Tanz, Spiel, Konzept, Choreographie | Ryota Maeda – Tanz, Spiel | Cedric Douhaire aka AXL OTL – Komposition, Musik, Sound, Spiel | Tomoya Kawamura – Dramaturgie, Stage Manager, Technik | David Ojala – Licht, Technik | Jingyun Li – Dramaturgie, Konzept, ÖA | Yvonne Leppin – Tanz, Spiel, Konzept, Kostüm | Regina Gyr – Kostüm, Konzeption, Spiel | Lisa Fütterer – Szenografie, Konzeption, Regie | Cornelius Onitsch – Regie, Bühne, Musik | Andreas Heilig – Produktion, Bühnentechnik | Daniela Halpick – Produktion, ÖA | Tadaaki Kumagai – Web Design | Ayaka Sakai, Ginjo Sakai, Shiori Sumikawa, Ayuko Kiyota, Gayane Hakobyan, Katarzyna Wieczerzak, Udo Wiegand, Sasha Radlov, Sae Esashi, Masashi Minai, Mona Masuyama – Gastkünstler*innen
Funded by Fonds Darstellende Künste with funds from the Federal Government Commissioner for Culture and the Media.
With kind support from Theaterhaus Mitte, Stadttheater Spandau, Umspannwerk Reinickendorf.